---
2020 Open Baseball Tournament
---
All teams must follow our guidelines and risk assessment.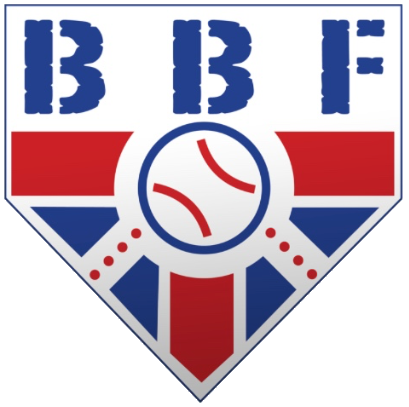 Format: Teams are assigned to a regional group. Teams with the best record at the end of thier group schedule advance to single elimination playoffs. Winners move on to the Finals.
The Tournament scheduled and standings are located on the BBF www.britishbaseball.org website under Matches
---
The 2020 Open Baseball Tournament is available to any seniors' team in the United Kingdom; Regardless of affiliation. There are four senior (adult) baseball divisions:
NBL

Triple-A

Double-A

Single-A
Team registration is now closed. There are 45 teams registered from across the country. The entry fee for the tournament was £15 per team.
The tournament is scheduled to take place
between August and September.
Teams have been placed in proximity pools (to minimise travel). The winners of their respective pools advance to the playoffs and eventual finals for each respective division. National awards will be given to the winners in recognition of their achievement.
Games will take place primarily on Sunday's, however, some select games will take place on Saturday. The tournament schedule, standings, and details will be noted on the British Baseball Federation website www.britishbaseball.org
All teams involved are required to adhere to the BBF rules, (UK Anti-Doping rules, follow its risk assessment, register players individually, and follow government safety mitigation guidelines for COVID19). link
Players can only play on one team (i.e., no crossover play on another team). Rosters are maxed at 25, however, for games their maybe a limited amount of players allowed to take part in a fixture as prescribed by the government.
BBF contacts:
Senior Commissioner is Dave Kettle e-mail dave.kettle@britishbaseball.org

Officials is Gabor Erdos e-mail umpiring@britishbaseball.org

For all other queries e-mail info@britishbaseball.org
Tournament games start times are scheduled for a start time of 12:00. The menitoned is to provide the event administrators extra time from our usual 11:30 start time to prepare (santise the dugouts etc). However, if the teams and the official the night before agree with the event administrator to start at the usual time 11:30 that is acceptable. However, to start at 11:30 all the above participants need to agree.
Further, pre-game timings have been reducted.
Game Time limit
There is no mandatory time limits to the seven inning games.
However, ee are exploring the possibility of limiting the length of the games to 2:30 hrs after week one. Please send your thoughts about this idea to umpiring@britishbaseball.org
Pre-game timings and game one start time 12:00 (Official)
10:25 - 10:55 (30mins) home team batting practise

10:55 - 11:25 (30mins) away team batting practise

11:25 - 11:35 (10mins) home team IF/OF warm up

11:35 - 11:45 (10mins) away team IF/OF warm up

11:45 - 11:55 (10mins) grounds keeping

11:55 - 12:00 (5mins) socially distant plate conference

12:00 - game one start
Game two start time
14.55 - 15.00 (5mins) socially distant plate conference

15.00 - game two start
Seniors [best practise] : The following are not mandatory, but should be considered to save pitchers arms.
Week one: The limit is 50% for the normal limit of 90 pitches = 45 pitches

Week two: 75% of the limit = 60 pitches

Week three: 85 % of the limit = 76 pitcher

Week four: Full pitch limit

Seniors: 100 pitch limit throughout the tournament for senior-level players, with guidelines as follows.

Week one: 50% limit = 50 pitches

Week two: 75% limit = 75 pitcher

Week three: 85% limit = 85 pitcher

Week four: Full Pitch limit of 100
NHS Care Charities
NHS Charities Together. NHS Charities Together is a national charity supporting NHS Charities across the UK and community projects.
"NHS Charities Together would like to thank all those involved in the British Baseball National Tournament for their support. Donations will allow NHS Charities across the UK to go over and above for their staff, patients, and volunteers. Best of luck to all involved!" Sian Averill, Fundraising Manager
Baseballs for the tournament and procedure
As a mitigation for COVID19 the away and home team each needs to provide three new baseballs for each game. The following baseballs may only be used: Wilson A1010PRO or Baden (Perfection). Teams before their games need to agree on what baseballs to use. That is, no mixing of baseballs for the fixture, either teams use the Wilson or Baden baseball for the entire game. Each team will use their new baseballs on defence. After the half innings the baseballs will be changed for the other defensive team.
---
---
The British Baseball Federation (BBF) as the National Governing Body of the sport of baseball, have agreed to work in partnership with UK Anti-Doping (UKAD) to ensure that the integrity of our sport (baseball) is protected. UKAD is the national anti-doping agency for the UK, dedicated to protecting a culture of clean sport – it achieves this through implementing education and testing programmes, gathering and developing intelligence, and prosecuting those found to have committed an Anti-Doping Rule Violation. UKAD is responsible for ensuring sports bodies in the UK are compliant with the World Anti-Doping Code through the implementation and management of the UK's National Anti-Doping Policy. The use of performance-enhancing drugs and other doping behaviour severely damages the legitimacy of sport and undermines the integrity of clean athletes.
BBF Anti-Doping Rules

The British Baseball Federation has agreed to implement a set of anti-doping rules that all athletes, coaches and athlete support personnel must abide by as part of our Federation. The anti-doping rules for the BBF are consistent with the World Anti-Doping Code (2015 Code), which governs anti-doping internationally. You can find the UK Doping rules by clicking here.
BBF Anti-Doping Rules The British Baseball Federation has agreed to implement a set of anti-doping rules that all athletes, coaches and athlete support personnel must abide by as part of our Federation. The anti-doping rules for the BBF are consistent with the World Anti-Doping Code (2015 Code), which governs anti-doping internationally. All athletes need to be aware of the principle of strict liability. This means that all athletes are solely responsible for any banned substance they use, attempt to use, or that is found in their system, regardless of how it got there and whether or not they had an intention to cheat. It is crucial that athletes check all medications are safe to take prior to use. Medications can be checked online via Global DRO. Athletes must undertake thorough internet research of any supplement products before use – including the name of the product and the ingredients/substances listed. Information revealed as a result should be further investigated and we advise athletes to keep evidence of their search.
For the tournament UKAD Anti-Doping applies to all participants.
2020 Sun Graph for the UK
Annual Weather Averages for UK
---
Government COVID19 guidelines apply at all times.
Until the BBF receive's government approval of its action plan and risk mitigation guidelines to resume team activtives (fixtures, intrasquad games) all participants, teams and officials are required to reframe from such activities until such time.
UK government information You can now exercise alone, with members of your household, or with up to 5 other people from outside your household. Up to two households are permitted to gather in groups of more than 6 people indoors or outdoors, provided members of different households can follow social distancing guidelines. Otherwise, gatherings of more than 6 people indoors or outdoors continue not to be permitted. Some government tips: If possible, hand sanitise at intervals if your sport or recreation means you have to touch communal surfaces. Try to avoid using shared equipment such as bats. You can travel for physical activity. Ideally use your nearest, local appropriate venue to reduce pressure on transport infrastructure.
If you've been in contact with a person who has coronavirus
isolate: as soon as you experience coronavirus symptoms, medical advice is clear: you must self-isolate for at least 10 days. Anyone else in your household must self-isolate for 14 days from when you started having symptoms

do not leave your home for any reason – if you need food or medicine, order it online or by phone, or ask friends and family to drop it off at your home

do not have visitors in your home, including friends and family – except for essential care

try to avoid contact with anyone you live with as much as possible

people you live with do not need to self-isolate if you do not have symptoms

people in your support bubble do not need to self-isolate if you do not have symptoms
If you have symptons
You can get a test link:
for yourself, if you have coronavirus symptoms now (a high temperature, a new, continuous cough, or a loss or change to your sense of smell or taste)

for someone you live with, if they have symptoms

if you live in England and have been told to have a test before you go into hospital, for example, for surgery

if you live in any of these local councils where there are coronavirus outbreaks: Leicester, Luton, Pendle, or Blackburn with Darwen This service is for people in England, Scotland, Wales and Northern Ireland.
Check your symptoms click link.
If you need medical advice aboout your symptons call 119 in England, Wales and Northern Ireland or 0300 3030 2713 in Scotland, from 07:00 to 23:00.
IMPORTANT: The above information is from government websites, incomplete and subject to change without notice. Please refer to GOV websites for more details.